*BIG SPOILERS! READ AT YOUR OWN RISK!*
In this article, we will also talk about real events that happened in real life and real organisations of real countries and will be shown in blue.

In 1970, six years after the Virtuous Mission and Operation Snake Eater (Metal Gear Solid 3: Snake Eater), the US government starts to build a Metal Gear from the Soviet scientist Aleksandr Leonovitch Granin's blueprint. The same blueprint Major Ocelot brought back to the CIA from his previous mission during Operation Snake Eater. During its transport for some tests, the Metal Gear is stolen by some members of the FOX Unit who were supposed to protect it. Major Zero and Big Boss are thought to be responsible and are accused of betrayal. Zero is arrested by the Pentagon. However, it seems that the members of the FOX Unit who stole the Metal Gear aren't under Zero's orders but have actually broken their allegiance with the CIA and gone renegade. The Metal Gear is relocated to San Hieronymo in Colombia.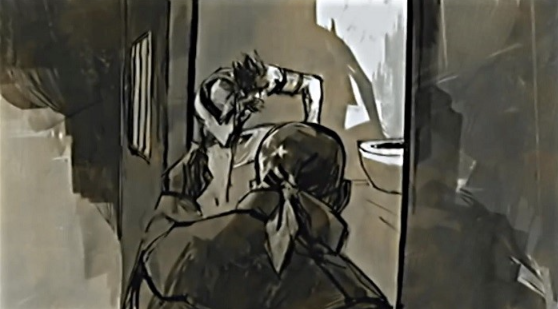 Big Boss in jail
Big Boss, retired from the FOX Unit, has been kidnapped and is now detained in a cell in San Hieronymo where he is interrogated by Lieutenant Cunningham, also known as Boa, another rebel member of the FOX Unit which is now in shambles and under the control of Gene, also known as Viper, who wants to create an independent nation of soldiers, away from the control of politicians. To further this cause, he blackmails the USA and the USSR with the possibility of a nuclear strike. He also thinks that Big Boss knows where the other half of the Philosophers' Legacy is and that is why Big Boss is now in one of his jails.
There, Big Boss meets Roy Campbell, last survivor of a Green Berets unit who had been sent there after the recent events surrounding the Metal Gear. Big Boss escapes the prison and is immediately helped by Sigint and Para-Medic through radio, just as it was six years earlier. Big Boss later helps Roy Campbell to escape from his own cell. They leave together and decide to interfere with Gene's plans by freeing the soldiers who are under his control. To do so, they recruit disillusioned Soviet soldiers on site and start to create an army.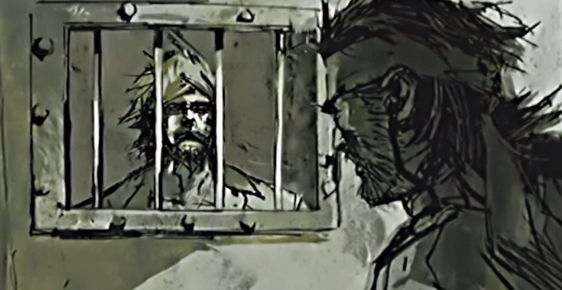 Roy Campbell in jail
Later, Big Boss meets Elisa, a FOX Unit doctor. She helps him to hide from other soldiers, after he reaches her laboratory, as she is against Gene's plan to launch nuclear bombs. She talks about Ursula, her twin sister, and explains how Gene saved them a few years before, when he liberated them from a laboratory where they were victims of experiments. They were locked away in the laboratory because of telekinetic powers acquired after having been exposed to radiation during a nuclear explosion.
She also tells Big Boss that she is taking care of the Perfect Soldier, a result of the "Perfect Soldier Project" conducted by the CIA (and so also the Philosophers). This man has been conditioned to be devoid of any emotion or memory. Only his soldier skills remain and he has only one purpose: accomplish the mission. Any mission. His name is also Null.
Big Boss is later helped through radio by a mysterious man, named Prividyenie, Russian for Ghost, who will give him precious information about the Metal Gear.
Big Boss then meets an old friend, Python, whom he fought alongside during the Vietnam war. Big Boss thought he was dead and so left him during a mission. Justifying his thirst of revenge, Python explains that, after being left, he has been saved and trained by the CIA to prevent a potential betrayal of Big Boss. After a fight between them and being defeated, Python finally decides to join Big Boss' cause.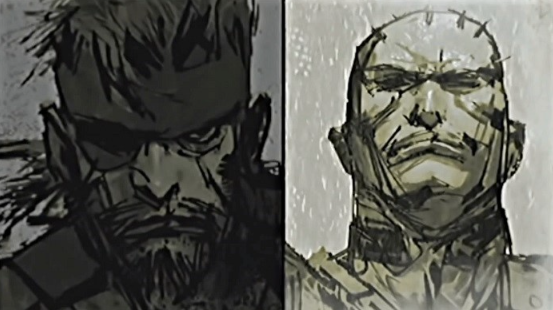 Python's fight
Later on, Big Boss meets Null. After fighting against each other, Big Boss recognises and remembers this soldier. Big Boss tries to tell him this which starts to awaken some memories within Null but Cunningham intervenes before he can recollect everything and captures Big Boss again.
During the detention, Gene explains that he comes from the "Successor Project", a top secret experiment conducted by the US government, whose purpose was to create the ultimate battlefield commander. This commander would have the skills to wage war, the aptitude for strategy, the endurance to return from battle alive and the charisma to overwhelm and master the hearts of soldiers. All of this was to be modelled on The Boss. Gene also explains what his mission is supposed to be: steal the Metal Gear for the CIA in order for them to deliver it to the Soviet Union. This would make the Cold War last longer and maintain the balance of power. But someone else is behind this and a phone-call from Ocelot later proves it.
Later, Elisa pays a visit to Big Boss to bring him some food and information about the progress of Gene's plan. Communicating using telepathy, she tells him that she does all of this because she saw him destroying the Metal Gear in a vision.
Elisa & Big Boss
Some of the soldiers previously rescued by Big Boss come and help him to escape from jail and they all head up to Metal Gear's location. The mission now is to destroy the Metal Gear's nuclear warheads. However, on their way, they are stopped by Cunningham who asks Big Boss about the Philosophers' Legacy again. Elisa intervenes in order to rescue Big Boss and his men, and they leave to join Roy Campbell.
Elisa and Big Boss head up to the Metal Gear's location but when they arrive on site, they are stopped by Gene who summons Ursula. She is actually none other than Elisa, whose personality has been split in two following some experiments. These personalities have developed different powers and convictions: Elisa is on Big Boss' side while Ursula stays on Gene's side.
Ursula takes control of the Metal Gear but she is defeated by Big Boss and the Metal Gear explodes with her still in it. The Metal Gear is destroyed but a man appears out of the blue and tells Big Boss that this Metal Gear was only Metal Gear RAXA. This man turns out to be none other than Sokolov, the Russian scientist who had designed the Shagohod six years earlier, the same scientist that Big Boss, who was then still known as Naked Snake, had saved during Operation Snake Eater. Metal Gear RAXA is just a prototype, designed to run some performance tests and not the real Metal Gear, known as Metal Gear BIC. Sokolov also explains that, because Gene saved him from Russian jails after having been accused of betraying his country, he helped Gene to finalise the two Metal Gear models. But, knowing that Gene wanted to use them to launch a missile on Russia, his motherland, Sokolov, posing as Prividyenie, decided to help Big Boss by providing him with extensive information on the Metal Gear.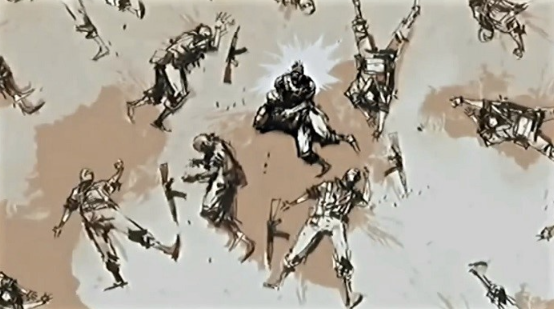 Big Boss in the middle of soldiers who have killed each other
With Metal Gear RAXA destroyed, Gene, thanks to his 'abilities', confuses his own soldiers and makes them kill each other. He does this to get rid of them and to seize the moment to escape and reach Metal Gear BIC. Big Boss pursues Gene but stops when he sees Null who is killing soldiers. He has been driven to madness by his obsession to kill the only one who continues to stand in the way of his mission: Big Boss. By facing him again, Big Boss remembers that he had met him on the battlefield four years earlier when Null was still a young soldier. Big Boss realises that Null is none other than Frank Jaeger, also known in the future as Grey Fox. He couldn't remember Big Boss because of the experiments carried out on him. Big Boss tries to tell him this in the hope that he will remember. After a fight, Null then recovers some memories and joins Big Boss' army.
Big Boss then arrives at the silo on top of where the Metal Gear BIC is perched and heads for the elevator. He is aiming to stop Gene who is on the verge of unleashing a nuclear strike. This is when Cunningham arrives on a flying machine.
Before the fight, Cunningham reveals who he really is: he works for the Pentagon who were feeling threatened by the growing influence that the CIA was having thanks to recent events (secret missions during the Vietnam war, the Bay of Pigs...). The Pentagon asked Gene to steal the Metal Gear before the CIA can give it to the Soviet Union. And instead, the Pentagon want Gene to launch a nuke on the USSR which would be terrible for the CIA and would allow the Pentagon to get back into strategic decision making for the US.
Cunningham tries to convince Big Boss to join his side and betray the CIA, who had let his mentor The Boss die six years before, but Big Boss refuses and so the fight between them starts. Big Boss defeats Cunningham and heads to the Metal Gear control room.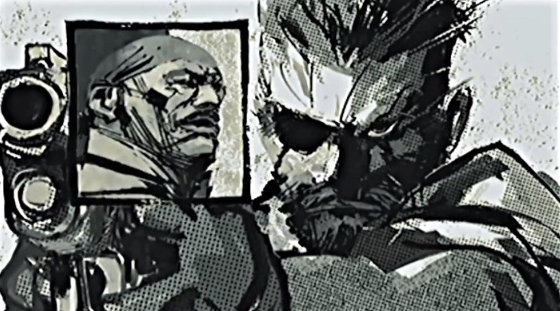 Cunningham's fight
Gene is now waiting for Big Boss. In the same way that Cunningham did before him, Gene reveals his true objectives: he doesn't care about the quarrel between the CIA and the Pentagon and instead of launching a nuke on the USSR, he actually wants to direct it to both organisations in order to free the world from the Philosophers' influence. His aim is to create a new soldiers' nation, the Army's Heaven, and unify the world to accomplish The Boss' wish, which was to abolish World borders. He also tells Big Boss that all the events of the Virtuous Mission and Operation Snake Eater was staged by a single man behind the scenes in the US. He talks about how The Boss had actually been killed as planned after the launch of a nuke by Volgin, which was all set up from the beginning. Despite revealing all of this, Gene won't tell Big Boss who the man behind it all is. Gene then asks Big Boss to join him which he refuses.
Just after Gene presses the button to launch the nukes, Ursula (or is it...?) breaks the window of the command panel to try and prevent Gene's plan but she is killed by him straight away, because her power is no match for him. With her last breath, she asks Big Boss to stop Gene and reveals some of her other visions: she saw him destroying a Metal Gear but also building another one. Before dying in his arms, she also tells him that his children, whom she calls "Les Enfants Terribles", will, between them, both destroy and save the world.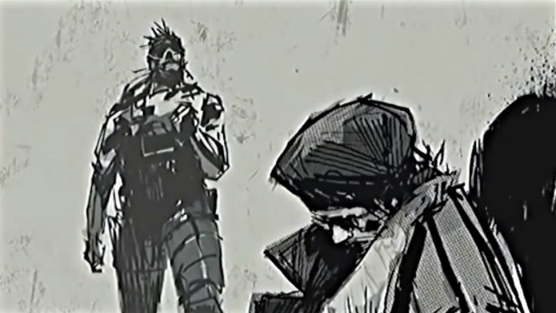 Gene is defeated
Big Boss finally defeats Gene after a fierce battle. Gene admits that despite his skills modelled on The Boss, Big Boss is indeed the real successor to The Boss. Gene gives him a microfilm with all the information regarding the Army's Heaven, including equipment, personnel and funds. He is sure that Big Boss will need this soon and will be grateful because, for him, they are not so different.
With Gene out of the picture, Big Boss still needs to destroy Metal Gear BIC. He launches a rocket on the Metal Gear but it's not enough. His army now joins him to help by firing upon the Metal Gear. Big Boss risks his life by launching another rocket and is blown away by the jet engine of the Metal Gear. His soldiers then manage to damage it enough for it to lose its trajectory once out of the atmosphere.
At the same time, Ocelot is in the headquarters of the CIA. He crosses the path of the Director who is going to hide himself from the Metal Gear's missile. He is also planning to hide a briefcase containing the identities of all the Philosophers and one half of the Philosophers' Legacy, the other half already belonging to Ocelot. He then kills the Director and takes the briefcase. He now possesses the entire Legacy and is able to get rid of all the Philosophers in order to create a new organisation that will "carry on the spirit of the true patriots".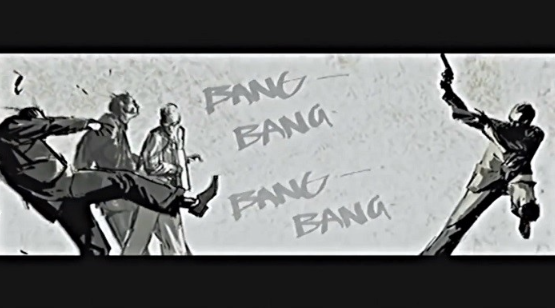 Ocelot in CIA's headquarters
Big Boss is welcomed as a hero and realises that he has to pass on what he has learned from his experience. Ocelot then receives a call from the man who is behind the operation and who conducted everything, from Operation Snake Eater to Gene's manipulation, in order to retrieve the Legacy and build a new kind of organisation like the Philosophers. The project "Les Enfants Terribles" is mentioned and Ocelot accepts an invitation to join the new organisation on one condition: he wants Big Boss to join as well.
An elite group of people with the ability to rule the world in secret and fulfil The Boss' ideology is born. They are the Patriots.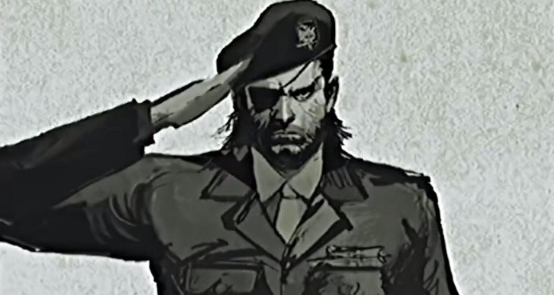 Another bitter end for Big Boss